Soaring to success
Dr. Rinat Meir, after conducting research at the lab of Prof. Rachela Popovtzer, received the prestigious Fulbright Scholarship and is pursuing her postdoc at Columbia University on new nano-biomaterials in drug-delivery.
Dr. Meir received a bachelor's and master's degree in chemistry from the Hebrew University, and received her PhD at the lab of Prof. Rachela Popovtzer in the Faculty of Engineering at Bar-Ilan University. Meir, together with a multidisciplinary team of scientists, developed a breakthrough theranostic drug-delivery platform, that utilizes nanoparticles) for treating and diagnosing cancer through targeted immunotherapy.
"Typically, it takes several months until a physician can assess whether a treatment is working," she explained. "Our technique will enable fast, accurate prediction of a patient's response to cancer immunotherapy only 48 hours after treatment begins", said Meir.
Treatment included a formulated solution of gold nanoparticles carrying the PDL1 antibody,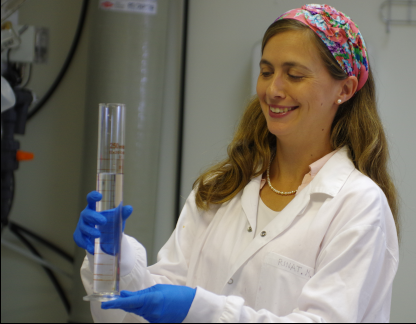 injected into tumor-bearing mice with colon carcinoma. After 48 hours a CT scan was run on the subjects to evaluate therapeutic efficacy. With the gold nanoparticles serving as contrast agents, the team able to track and quantify drug levels delivered to the tumor, and predict whether the subject showed an improved response to therapy. In addition, the gold nanoparticles accelerated delivery to the tumor, resulting in an improved therapeutic outcome. "The work at the lab was exciting, and the results were published in an article in ACS Nano", she pointed out.
Dr. Meir has received several awards, including a scholarship from the Wolf Foundation, a scholarship from Israel's Ministry of Science, and the Dan David Prize for PhD students. Her receiving of the prestigious Fulbright Scholarship and of the Bar-Ilan's woman postdoc award will enable her to pursue her postdoctoral research on nano-biomaterials at Columbia University in New York City.
Meir's research is highly interdisciplinary, and merges chemistry, biology, medicine, materials science and engineering. She intends to focus on developing new materials that can control bio-activity, and can be utilized for targeted delivery of therapeutics for various medical applications.
Meir has just relocated with her family to NY. "My children will always be my top priority. With 4 young ones, it's challenging to juggle and stay on top of everything. Still, they keep me stimulated, fulfilled, and on my toes", she said. After her postdoc she plans to return to Israel and apply her expertise to conduct collaborative research that will promote scientific and medical applications.
As a young religious woman raising a big family, Meir is a role model and a source of inspiration for other women. She has shown that it is possible to have it all: be a mom and pursue a successful career as a scientist!