The MultiMode AFM design allows different modes applications.
Specifications
Scanner Piezo Resolution

16 bits (all axes)

Scanner size (X, Y axis)

Scanner "J"  - 100 µm

Scanner "E" -  10 µm

Water-Cooled Scanner  - 125 µm

Vertical range (Z axis)

Scanner "J" - 5.5 µm,

Scanner "E" - 3.5 µm

Water-Cooled Scanner  - 5 µm

Noise

<3Å in vertical (Z) dimension with vibration isolation

Lateral resolution

The radius of curvature of the end of the tip will determine the highest lateral resolution obtainable with a specific tip.

The sidewall angles of the tip will also determine its ability to probe high-aspect-ratio features.

Typical accuracy

1%

Maximum accuracy

2%

Orthogonality

2 degrees

Max. sample size

Samples up to 10 mm diameter and 6 mm thick

Small samples*

Magnetic holder is available for mounting small samples on mounting pucks.

Smooth samples can be attached to the chuck using chuck vacuum.

Wet samples

Optional fluid cell with / without temperature control in liquids. Useful range  is 4- 50 ºC in water

Optical microscope

10X Nikon objective, 450X magnification range with 14-inch image. 12.7 mm travel two-axis stage.

Heater / Cooler

Provides samples heating and temperature control from -35 ºC to 100 ºC  for samples (0.6x0.6x0.5 mm) in air or other inert gases.

SSRM

Image carrier concentrations 1015 – 1020 carries/cm3.

Resistance is measured using a logarithmic current amplifier with range 10pA -0.1 mA.

Extended TUNA

Range: 150 fA to 2000 nA; Noise: 150 fA RMS in pA range, 10 pA RMS in nA range. A bias of mV to 12 V can be applied.

Thermal control measurements
MultiMode heater/cooler line provides increased thermal-control convenience to life sciences and polymers research.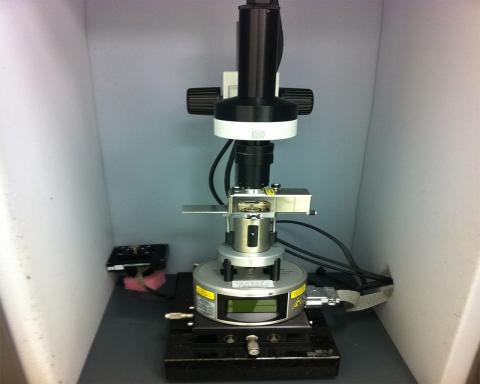 Last Updated Date : 26/12/2021