Fellowship of the Chinese Academic society (CAS).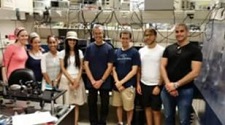 Each year, the Chinese Academy of Sciences (CAS) selects ten foreign researchers to receive the President's International Fellowship Initiative Award. This year, Dror Fixler from the engineering department & member of BINA, won the award for his research in the field of nano-photonics.
The award is accompanied by a study grant of 80,000 Yuan to carry out research together with a Chinese investigator.
Fixler is going to work together with Prof. Zhiyong Tang from the Chinese National Center for Nanoscience and Technology. Their collaboration builds on the cooperation between the two institutes which was initiated last year.
Last modified: 16/02/2017