Redefining science in the blockchain era
The notion that dead-ends could be more important than breakthroughs is the core idea of a new startup: Materials.Zone. The company, led by Dr. Assaf Anderson, has developed a platform that extracts raw data from labs, and makes it accessible to other scientists for advancing science and technological innovation. Their next goal is building a blockchain data-bank for trading scientific knowledge.
One man's trash is another's treasure
The Materials.Zone platform automatically extracts and indexes vast amounts of research data, and saves it automatically in a secure repository. The data is accessible to anyone in academia or industry, specifically scientists or engineers who are interested in newly-discovered material properties.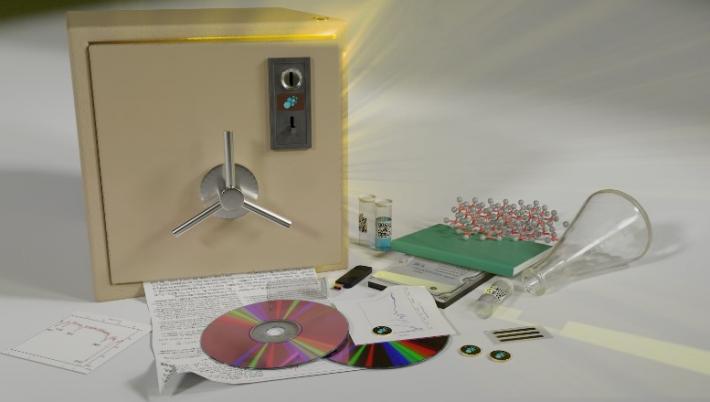 The system is based on IP developed at the lab of Prof. Arie Zaban, the President of Bar Ilan University. "Our solution offers an easy and safe way for scientists to store results and share their discoveries with others, while also securing their IP rights. This solution can be used to pinpoint research gaps that remain unknown. It also spares unnecessary experiments that have already been performed and could help in validating or refuting previous observations", said Dr. Assaf Anderson, CEO of Materials.Zone.
Anderson explains that in order to develop future technologies it is essential to invent materials with new properties. "There's a huge amount of knowledge generated from experiments that could advance this field significantly. Once a research project is over, most of the data ends up in some lab drawer and only a tiny fraction of it is used," he said.
The problem is that scientists are worried that others labs might 'scoop' their research and publish it before they do. Therefore, most scholars keep their discoveries 'close to their chests'. Moreover, as Anderson points out, nobody likes to reveal their failures, so negative results remain unknown. Nevertheless, data from one failed experiment could potentially be the missing link for another scientist. "If data from every experiment were accessible, this could advance science and innovation not only in materials science, but in any discipline. By using our secure technology, we can set this information free", explained Anderson.
How much is your lab data worth?
The platform can interface with any type of lab instrument, and can measure signals in numerous formats and protocols. "We are in the process of adding a DLT (Distributed Ledger Technology) blockchain-based system that will promote our approach of an 'Open-Science Economy'. To that end, we are establishing a not-for-profit organization (NPO), similar to the LINUX open-source operating system, which will maintain the world's 'knowhow bank', ensuring that it is kept open, accessible, and tradable. Scientists will be able to trade knowledge including bits of information about a material, or services for creating, measuring or analyzing materials.
This will be done by using 'smart' contracts and a 'native token' as currency, similar to cryptocurrencies traded in a decentralized system without the need for banks. The advantage of the technology is in its automatic timestamp, credentials, and encryption, so recorded knowledge is completely secure and verifiable and cannot be altered retroactively. This will enable credible transactions, including micropayments involving very small sums of money, without the need for a central entity overseeing the process", described Anderson.
Most of the BINA labs at and several labs at the Weizmann Institute are already connected to Materials.Zone. Two additional facilities in Berlin are using the platform: The BER-II 10 MW nuclear research reactor, and the BESSY II beamline particle accelerator− both part of HZB, a Germen government research institute. In addition, several prominent labs and large companies are currently evaluating the platform's capabilities.
Anderson points out that, while ELNs (electronic lab notebooks) collect and organize data, this information remains isolated, un-shareable and alterable. Other solutions gather published data and integrate AI into data warehousing, but are unable to address new IP rights or pinpoint new discoveries. Additionally, open-access platforms don't always act in the best interest of researchers.
"Our system 'learns' the structure of any entity that generates data, and merges it into a unified format. This solution, by utilizing machine-learning and big-data analysis, enables more efficient guided research. As a result, we gain usable modular data that can be monetized, rather than relying only on data from patents and publications", he said.
Anderson attained both his B.Sc. and M.Sc. at BIU. During his undergraduate studies, he programmed Bar-Ilan's student lab for Brain Sciences research, and worked at several tech startups. He did his Ph.D. at the Imperial College in London where he researched PV cells and kinetic reactions.
In 2011 he began working with Prof. Zaban on the Combinatorial Project−a high-throughput, algorithm-based, non-hypothesis-driven empirical research, which he has managed for the past 7 years. They are utilizing robots and algorithms to create new materials and increase the accumulated knowledge, which has led to several ground-breaking discoveries. In 2015 Anderson began working on a marketplace for material properties, and in late 2017, together with Mr. Barak Sela, founded Materials.Zone ltd., which already has 13 employees.
"When we first started off, we had generated a phenomenal amount of data and discoveries−350k protocols and over 1.5M measurements, but did not have the capacity to patent, publish or commercialize it all. Eventually, we realized this was a global, cross-discipline problem", Anderson remarked. "We hope that 'Open-Science' Economy will release a huge bottleneck for researchers, and that the 'long tail' of science, the 99% of unpublished data, will become accessible to humankind. This will enable the development of better technologies at a much faster pace", he said.
Early adopters, including labs and individuals who are interested in collaborating can contact the company at: info@materials.zone
Last modified: 30/05/2018