the Atomic Force Microscopy lab at BINA is equipt with MultiMode V, VEECO AFMs.
Atomic Force Microscopy (AFM) provides the ability to image the surface topography of both conducting and insulating samples, as well as adsorbed molecules and nanoparticles. 
The MultiMode Scanning Probe Microscope with the Nanoscope V controller enables one to perform such measurements in air as well as in fluid, with nanometric scale resolution. 
Using the XY closed loop of the Hybrid XYZ scanner allows accurate and reproducible zooming, as well as high accuracy tip positioning. Using the XYZ closed loop makes it possible to perform highly accurate force-distance curves, current-voltage (IV) curves, and "pulling" techniques, at specific points of high resolution images. 
In addition to the measurement capabilities, the scanner is also able to perform nanolithography (both scratching and oxidation) and advanced nanomanipulation applications. 
It also provides the capability of measuring locally a wide variety of physical properties, some of them with the aid of special modules.
Specifications
Contact and non-contact analysis 
Lateral conductivity measurements
Electrochemical measurement
Kelvin probe AFM
HarmoniX (adhesion & stiffness measurements)
Measurements in various Temperatures.
STM (20nm resolution)
Max lateral resolution – 3nm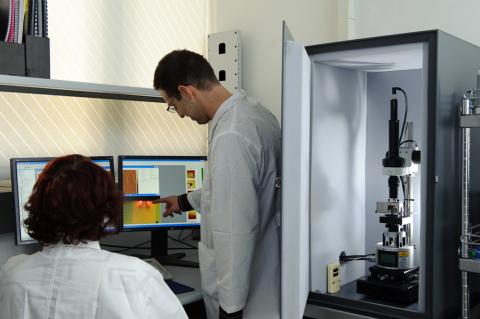 Last Updated Date : 20/04/2021